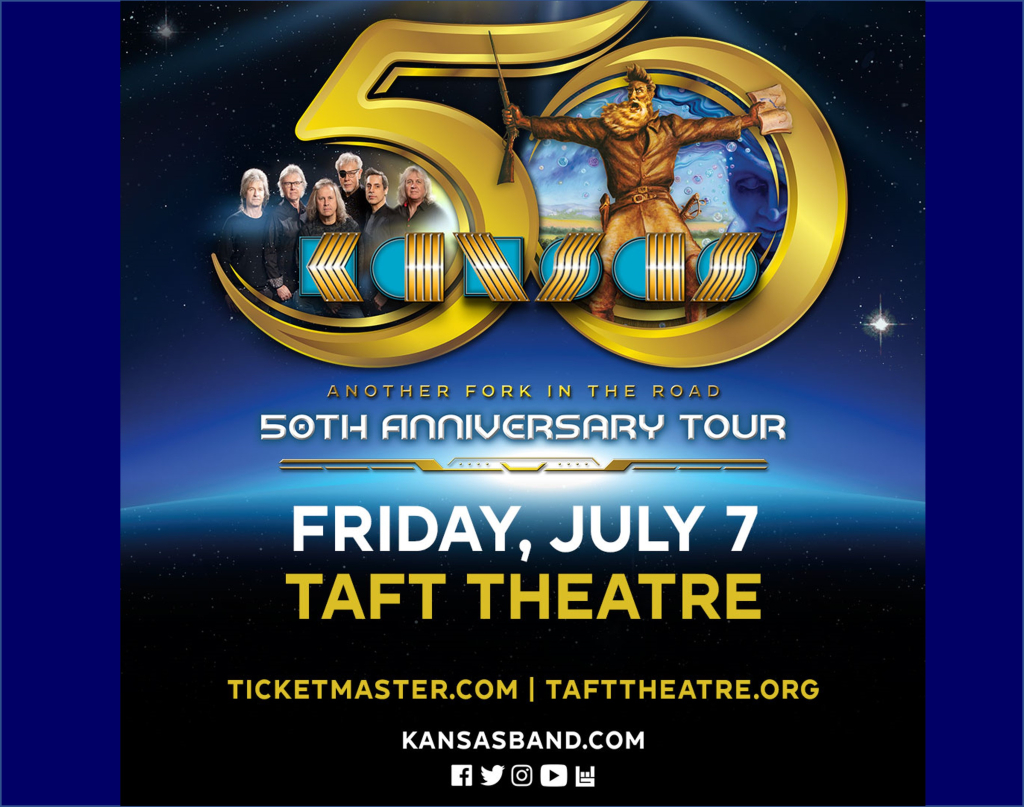 ROCK BAND KANSAS TO LAUNCH TOUR IN
CELEBRATION OF 50TH ANNIVERSARY
———————————————
TAFT THEATRE
FRIDAY, JULY 7
Tickets On Sale Friday, January 27 at 10am
Cincinnati, OH (1/23/23) – America's preeminent progressive rock band, KANSAS, will be touring 50 select North American cities to celebrate the band's 50th Anniversary. KANSAS 50th Anniversary Tour – Another Fork in the Road will showcase music spanning all 50 years of the band's illustrious history. The tour will showcase two hours of hits, fan favorites, and deep cuts rarely performed live. The tour includes a stop in Cincinnati at Taft Theatre on Friday, July 7.
Tickets will go on sale to the public beginning at 10am on Friday, January 27 at Ticketmaster.com. Tickets can also be purchased without service fees at the Taft Theatre box office during regular box office hours.
In 1973, the "garage band" from Topeka was discovered by Wally Gold, signed by Don Kirshner, and released their debut album in 1974. KANSAS has gone on to compile a catalogue that includes sixteen studio albums and five live albums. KANSAS has produced eight gold albums, three sextuple-Platinum albums (Leftoverture, Point of Know Return, Best of KANSAS), one platinum live album (Two for the Show), one quadruple-Platinum single 'Carry On Wayward Son,' and another triple-Platinum single 'Dust in the Wind.' Most recently, KANSAS has released two Billboard charting albums with 2016's The Prelude Implicit and 2020's The Absence of Presence.
"Our entire career has been a winding journey," comments KANSAS guitarist and original member Richard Williams. "Whether it's been the 'original' lineup signing with Don Kirshner, years on the bus, touring with Queen, worldwide success peaking with Leftoverture & Point of Know Return, the valleys of the 90's and 'dinosaur bands' losing steam, various lineup changes, to our most recent 'rebirth' and success of our latest new music over the last eight years; there have been several forks in the road of that journey. This 50th Anniversary Tour and release will represent that journey and the forks along that road."
To further celebrate the band's 50th Anniversary, InsideOutMusic has released Another Fork in the Road – 50 Years of KANSAS. The 3-CD career-spanning collection features carefully selected tracks from across KANSAS's sizable discography. It also includes a new version of the song 'Can I Tell You.' Originally released on their 1974 debut album, the song is updated by the current lineup. Another Fork in the Road – 50 Years of KANSAS is available now. Fans can order it here.
"I'm incredibly excited about the 50th Anniversary Tour," adds lead vocalist Ronnie Platt. "I tell people I'm not allowed to create a setlist, because it would be five hours long. There are so many songs I want to perform live. I think fans will be excited not only to hear our hits and fan favorites spanning 50 years of KANSAS, but also some songs that haven't been performed live in decades."
KANSAS is currently comprised of original drummer Phil Ehart, bassist/vocalist Billy Greer, vocalist/keyboardist Ronnie Platt, violinist/guitarist David Ragsdale, keyboardist/vocalist Tom Brislin, and original guitarist Richard Williams. With no signs of slowing down, KANSAS continues to perform in front of large and enthusiastic audiences.